Last spring, going to Secret Cinema for the first time, all I knew was that I had to dress in 1920s style. The invitation, which was sent by email to everyone who had managed to get hold of a ticket, didn't reveal either the name of the film or the exact location, but hinted that the mafia would be operating in the area, and that not even innocent audience members would be safe. At the entrance, we were asked to give up our phones and sign an agreement that we wouldn't tell anyone which film we were shown at the end of the evening. I am still afraid of breaking this agreement: if you had only seen those grim mafiosi shooting down their victims from the big screen! The pervasive atmosphere before the start of the film was just about the same. We were carefully prepared, the heat was turned up, without revealing the name of the film until the opening credits began to roll.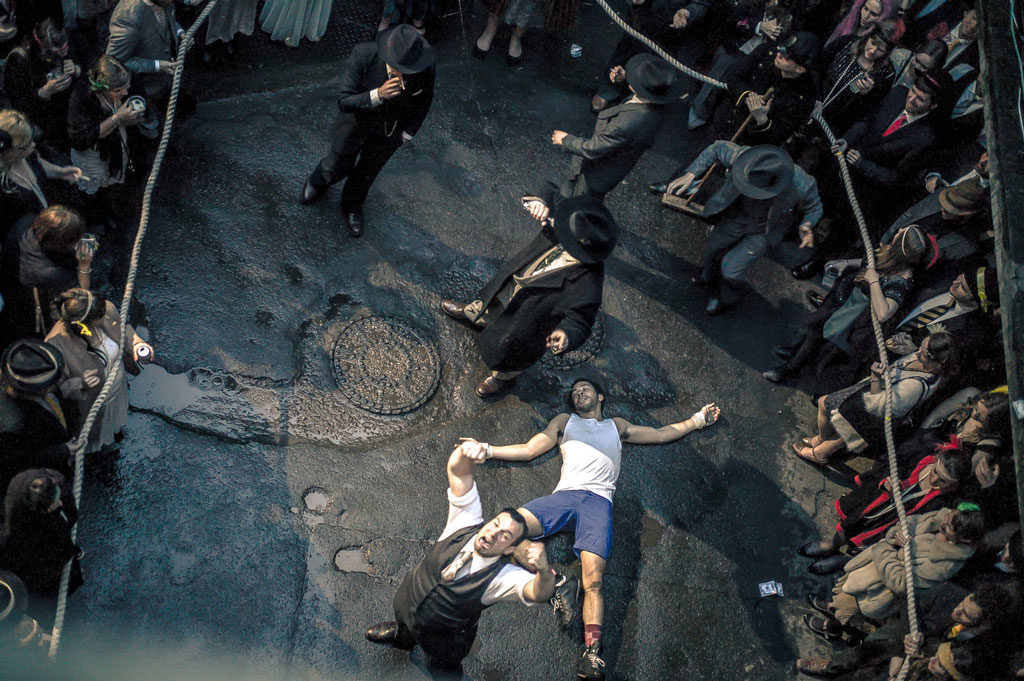 In the same year I went to another Secret Cinema show, but this one was altogether less secret. It was the film Back to the Future, the first large-scale production of the project. In contrast to previous screenings, the audience knew where they would be going and what film they would be seeing. This didn't hinder (it might even have helped) the sale of 75000 tickets, and got the whole of London talking about Secret Cinema. In front of the entrance to the venue in Stratford, transformed for the production into 1950s Hill Valley, there were long lines of elegantly dressed girls in full skirts and young guys in drainpipes with carefully slicked back hair for more than 30 evenings. The tickets were sold out in a few months, and several weeks went into the preparations – all to see a favourite film for the hundredth time, in the company of like-minded people, and to stroll around a toy town where you could really believe McFly's parents might live.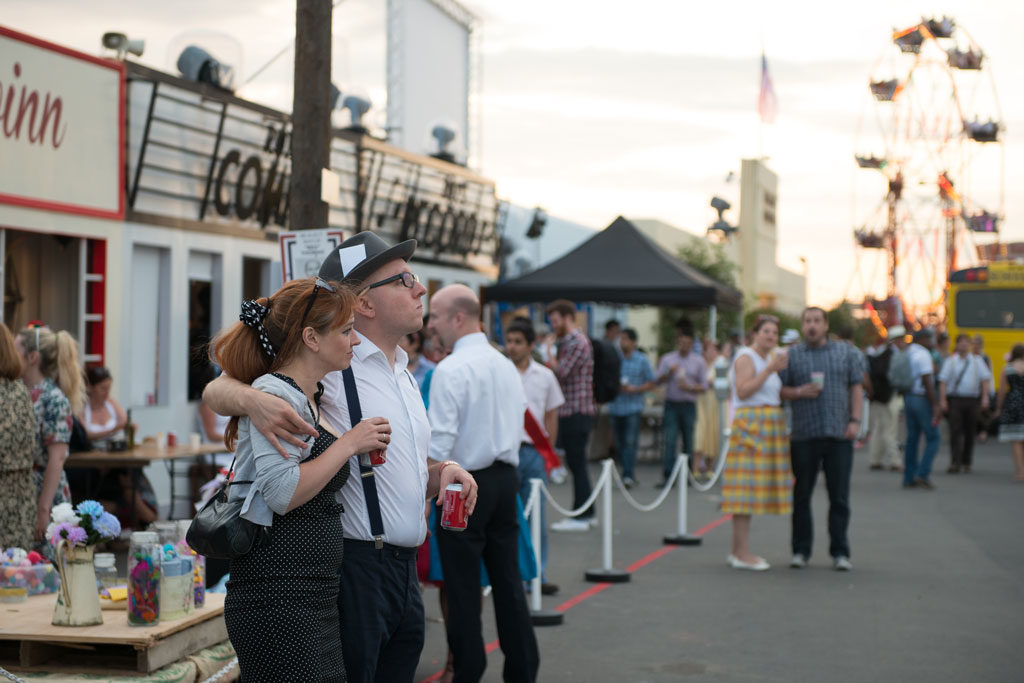 We met Fabien Riggall, the founder of Secret Cinema, just when his project was taking off through the stratosphere and entering a new, cosmic dimension. Screenings of Star Wars were beginning in London – not the new continuation of the series, but the cult classic episode in which Luke meets Yoda and finds out that Darth Vader is his father. For this film, which first came out in cinemas 35 years ago, Fabien sold tickets at £75 each, and tens of thousands were snapped up almost instantly.
So what is the secret – unimaginable good fortune, financial genius, or simply the importance of finding yourself in the right place at the right time, with the right idea?
Russian Gap's interview with Fabien began with a memory.
«When I was 11 years old, I lived in Casablanca, and one day I decided to go to the cinema, first time of my own, I didn't even tell my parents I was leaving. I walked a mile and a half to on old dusty cinema, i didn't see what was screening, and it happened to be Sergio Leone's «Once Upon a Time in America». It is a very violent film, and there was a character called Noodles in the film about my age, and I sort of fall in love with cinema». 
Fabien Riggall went on to film school, worked as a director's assistant, and spent a lot of time on film shoots. Afterwards, he explains, he "moved in the direction of music festivals, with their rave culture and secret parties". These things in time came together and united to form an idea: that the audience of a film could be more than just spectators, that they could become active participants in the show, and experience the whole range of sensory impressions alongside their cinematic heroes.
In 2003, Riggall founded the short film festival Future Shorts, where the best short films from all over the world were shown. The screenings were held in bars and night clubs, and one film was accompanied by the beats of a staged club night. It became a tradition to accompany films with some kind of additional experience. And so the idea of Future Cinema was born – a kind of club, experimenting with screenings that combined all kinds of films with all sorts of different sensory impressions. In time, Future Cinema changed its name to become what is known to us now as Secret Cinema. The Future Shorts festival continues to this day, now taking place in 300 cities and 90 countries, setting up screenings wherever possible, just not in ordinary cinemas.
It's funny to think that the concept of complete secrecy was added to the idea that there had to be additional sensory impressions not as a result of long consideration, but almost by accident. In 2007, Fabien and one of his colleagues at the film club decided to put on a premiere screening of the film Paranoid Park, but not to announce in advance where precisely it would take place. When Fabien was sending out their newsletter about this, he wrote: "We won't tell you the place or the name". The second part of that sentence wasn't meant to be there, but it turned out unexpectedly to be a fantastic idea!
Fabien decided that people would come either way, even if they didn't know what they were going to see – and it turns out he was right.
The first secret screening had an audience of 400 people, who were gathered on the day in an old railway station. Back then it was a one-off event, created by a team of little more than 20 people, but the audience was quickly taken by the idea, and regular screenings started to be organised, with the same films and sets now being used several times.
Today, there are only 12 people working on a full time basis at Secret Cinema, but over the course of their large-scale productions they take on around 400 people, including technical support, producers, co-ordinators, product managers, script writers, actors and designers.
Finding the right location is of the utmost importance. Fabien Riggall is almost obsessive in his hunt for abandoned buildings, which can be transformed into new cultural spaces.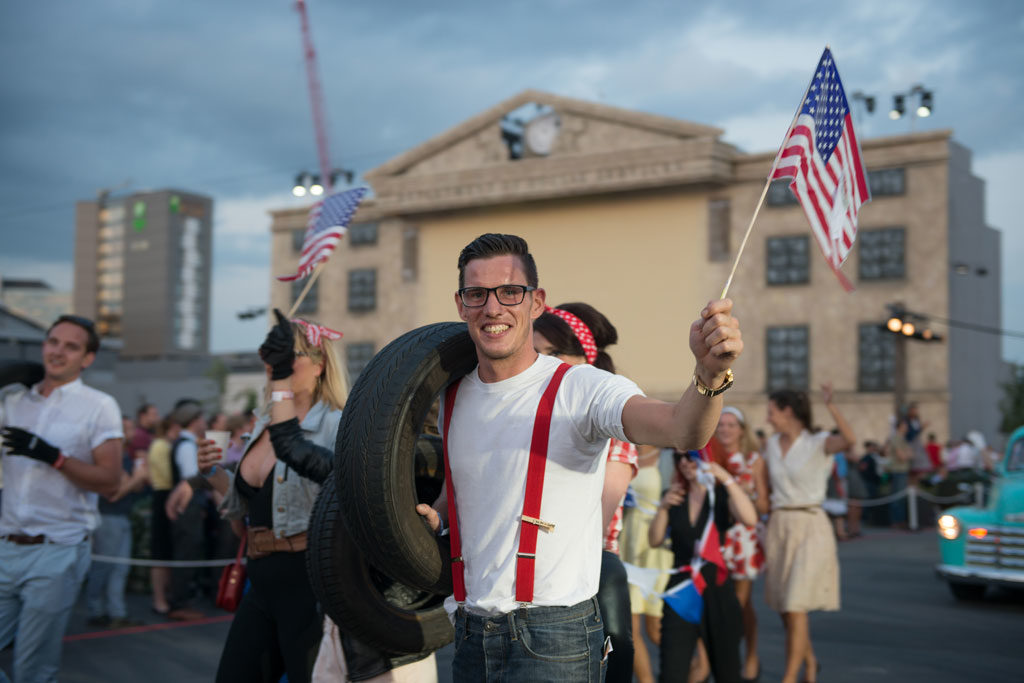 For Star Wars, an old newspaper factory was chosen, near to Canada Water station. The Shawshank Redemption was held in an abandoned school, which the creators of the show transformed into a prison.
"You wouldn't believe," Fabien tells us, "how many buildings there are in the world that nobody needs, which could be used for art and social initiatives." The company has already initiated a project, Secret Space, which is dedicated to mapping such potential venues across the globe.
In total, 45 films have been shown under the banner of Secret Cinema in London, and several more screenings have been held in New York and Berlin. In parallel with their "big" programme, which includes such mega hits as Back to the Future and Star Wars, the company continues to organise screenings on a more modest scale, with just as much secrecy as before. As the company's founder admits,
I want to put on big films, and at the same time I want to make small films big.
The fact that the company still puts on secret screenings surprised me – I thought that all of Secret Cinema's energy would be dedicated to putting on high-budget (and high-return) productions. However, the simple rule, "Tell No One", with which at some point it all began, is very effective. Nobody says anything. Everybody comes to watch.
The main site of the company gives minimal information, but there is a secret page (what else?), where you will find that there are now a few projects running under the overarching brand of Secret Cinema. These are SC Tell No One (when you don't know which film you will see or where you will see it), SC Presents (when you know what you are going to see, and all of your friends know as well, and nobody can talk about anything else), and also Secret Cinema X. The latter will soon be launched worldwide, so that anyone who wants to, in Moscow for example, can also put on their own secret screening of cult films, together with the accompanying "experience". The official launch of Secret Cinema X took place at the end of June in London, opening with a screening of the documentary Amy, about Amy Winehouse.
Fabien's company has a few more secret tricks up its sleeve: secret music, a restaurant, a hotel, a theatre, and even entire towns!
I asked Riggall whether he could have guessed where his childhood experience in a Casablanca cinema would lead him (and tens of thousands of his followers). What did he think was the foundation of his success?
«I don't know. It's very difficult to answer. You have to work hard and you also have to let things in. You have to live your life in a slightly different way I think. You have to sacrifice quite a lot of things for your art. Secret Cinema is a strange concept but it is a merger of a lot of different things. What we invented is something which goes beyond the normal cultural experience. I don't want to try to sound prophetic, but it's a kind of reaction on what people are looking for. If I go to a gallery, I don't want to feel, like I'm a gallery now, and it is art on the wall. If I go to a gallery, I want the gallery be the entire experience. Everything, from security guards to the people selling you the tickets».
Now Fabien Riggall is working on the idea of a secret festival. There won't be any formal scenarios, but a huge area will be brought to life with music and whole worlds will be constructed from the imaginations of artists. The festival, of course, will be secret, but it is already coming in the next few years. If Fabien has planned it, then it is sure to happen. Prepare yourselves, and Tell No One!
Words: Katia Nikitina
Photo: Eftihia Stefanidi, Mike Massaro, Will Cooper, Paul Cochrane, Al Overdrive