This material was first published in the print version of Russian Gap magazine (issue 2, 2015).
We are constantly hearing about how London is the most expensive city in the world, and educating your children here can amount to a tidy sum. Especially if you take into account that Grandma is not nearby, kindergartens and schools are expensive, and the waiting lists are practically Soviet. How much do families really spend on their children every month? We have broken the rules of English etiquette and asked Russian mothers about it directly. We didn't take food into account in our calculations, and the figures we got varied quite a bit!
£2700 Ekaterina and Denis
Children: Polina (10) and Yulia (6)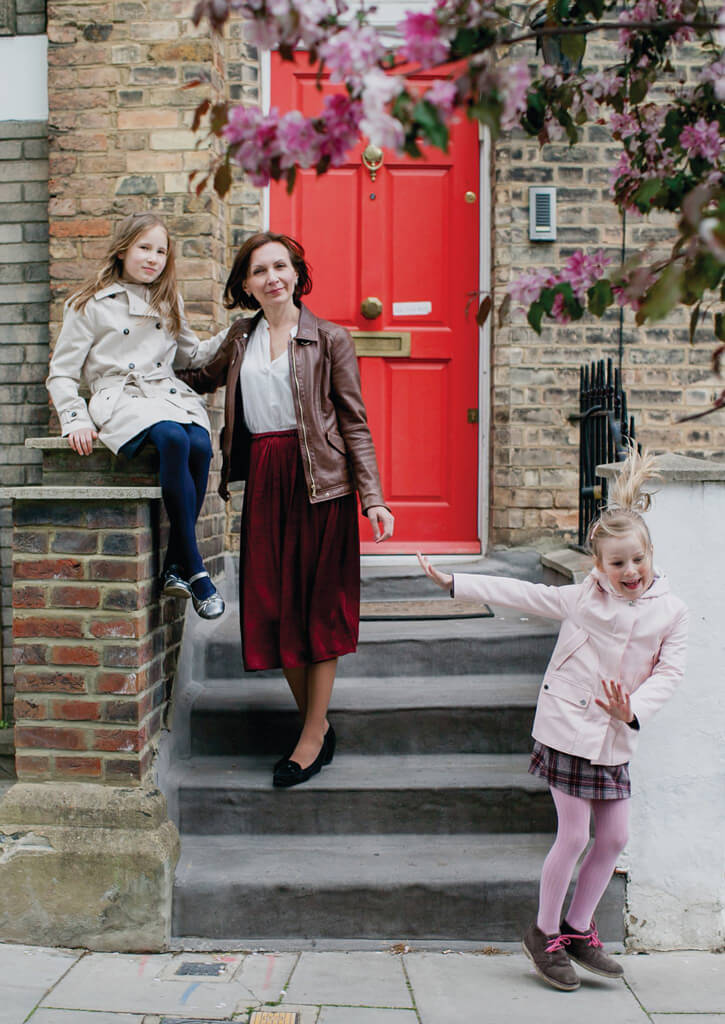 Our life in London began just under three years ago, and we spent the first two years in central London. We found it very difficult to get used to the prices, especially to the cost of accommodation. But what London has to offer apart from that – free museums, parks and playgrounds, relatively mild winters – all of that more than makes up for the negative experience of the high cost of living.
In the spring and summer, we try to sign the girls up for tennis classes. Group classes are totally affordable: one class a week over a semester comes to around £100 per person. But of course, that's only good as a pleasant passtime. If you take your sport seriously, private lessons are essential two or three times a week, and that is already a lot more expensive.
We spent a lot of time choosing a school. After a certain point we moved a bit further from the centre, thereby reducing our living costs, and found the perfect private school, with a high level of teaching and a reasonable amount of homework, at about a third of the price of a private school in the centre. In addition, this year we have started sending our children to a Russian school, so Saturday is also a school day for us.
In London, there are many free educational resources: museums, galleries, theatres. I am simply overjoyed to see my children sitting on the floor in front of Van Gogh's 'Chair' in the National Gallery, making drawings from the famous canvas!
I don't keep an exact account of our budget, although it would be really useful, so I can only give approximate figures. As our children are already a bit older, our expenditure on toys is reducing, but now we spend money on books, about £30 a month. The museums are free. Tickets to the theatre are fairly expensive, so we only go once a semester, usually to see a musical. The children go to the theatre with school relatively often.
I buy clothes from ordinary shops such as M&S and Next, so let's say that's another £100 a month.
The school eats up around £2300 for both children together, and the Russian school is a further £200 for both. Plus the cost of presents for the children, and for their school friends when they go to birthday parties.
Tip: For mini art admirers, the National Gallery holds free talks on Sundays about the paintings and masterclasses in drawing and crafts.
£1200 Dasha and Angel
Children: Denis (8) and Arseny (7)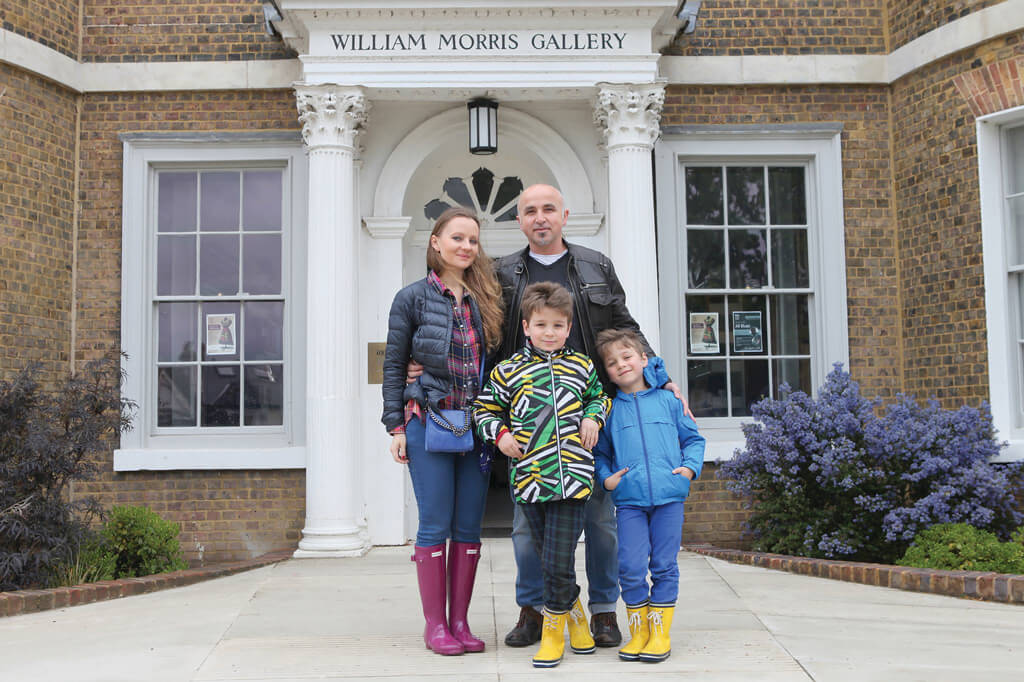 We have two boys, so of course sport has a big role in our lives. We play tennis on free courts (you can find these in almost all of London's parks), and we also play football with the children ourselves. We often visit museums and galleries, not only to see the permanent exhibitions, but also for the many drawing classes and interactive events. We especially love the William Morris Gallery and the Vestry House Museum, which are not far from our home. We also go to various auction houses to see preview shows of their sales. By the way, at these previews you can see all of the exhibits close up and sometimes even touch them with your hands! I work in the art world, and it is important to me that visiting museums and galleries should be the norm for my children.
The children go to a state school at the moment, but we are planning to continue their education in a private school or a grammar school. The boys also go to Russian school and to karate. Also music. Arseny plays the piano and Denis plays the clarinet. On top of that, Denis has maths and English lessons with a private tutor.
In total, we spend £1200 on the children each month, including the cost of clubs, the tutor, school uniform and a nanny. We hardly ever buy clothes. We are lucky: we have a lot of relatives who give the children clothing and toys. We hardly spend anything on entertainment and theatre in London, because we try to spend all of our holidays travelling. That, of course, isn't always economical, but we think that travel is very important for development and teaches our children so much!
If the children don't get a place in a grammar school and go to private school, then we will have to cut down on travel.
Tip: If you want to get involved in music for free, go to your local council and sign up for the Music Services programme. It's playing in an orchestra rather than in individual lessons, but it helps to develop musical skills and also provides experience of public performance and of playing with other musicians.
£2500 Anna and Simon
Children: Daniel (11) and James (9)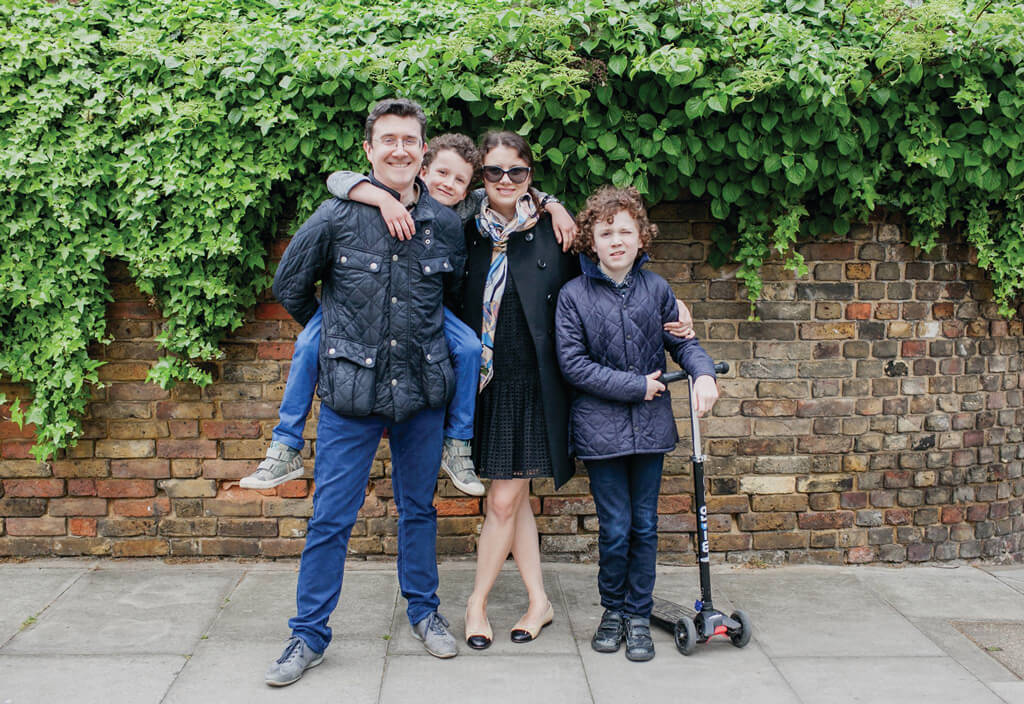 We have very active children, their week is planned down to the minute. At school, our youngest takes lessons in music, chess, football and dodgeball (this is similar to the childhood game we call vyshibaly in Russia). The oldest is a member of science and robot-building clubs. After school we go swimming, to gymnsastics, to a private tutor for English and Russian language, and to guitar lessons. I am a taxi mum, driving my children round in circles. How much does it all cost? If I'm honest, I've never really thought about it… On average, the children's clubs and tutors cost our family around £700 a month. We are lucky – in our area there are many good state schools, and both of our sons study for free near to our home.
I am an art historian by training and work in the tourism sector, so my family is also fated to go on cultural outings. We have been members of the National Trust for many years, which allows us to visit many palaces and castles for free across the country.
In total, in our family we spend around £2500 a month on the children, including theatre, amusement parks, clothing and clubs. In London it is difficult to save money on anything, everything is expensive: transport, food, entertainment. Sometimes I try to save money by shopping in the sales or with promotional offers, but it's not always successful. What we never cut corners on is the quality of our food – we try to buy the highest quality organic produce.
Tip: If you join the National Trust or English Heritage, you can visit the castles, museums and parks owned by these organisations for a whole year for free. Plus, there are usually discounts for members in the cafe and museum shops.
£100 Tatiana and Dmitry
Son: Alexandr (2 and a half)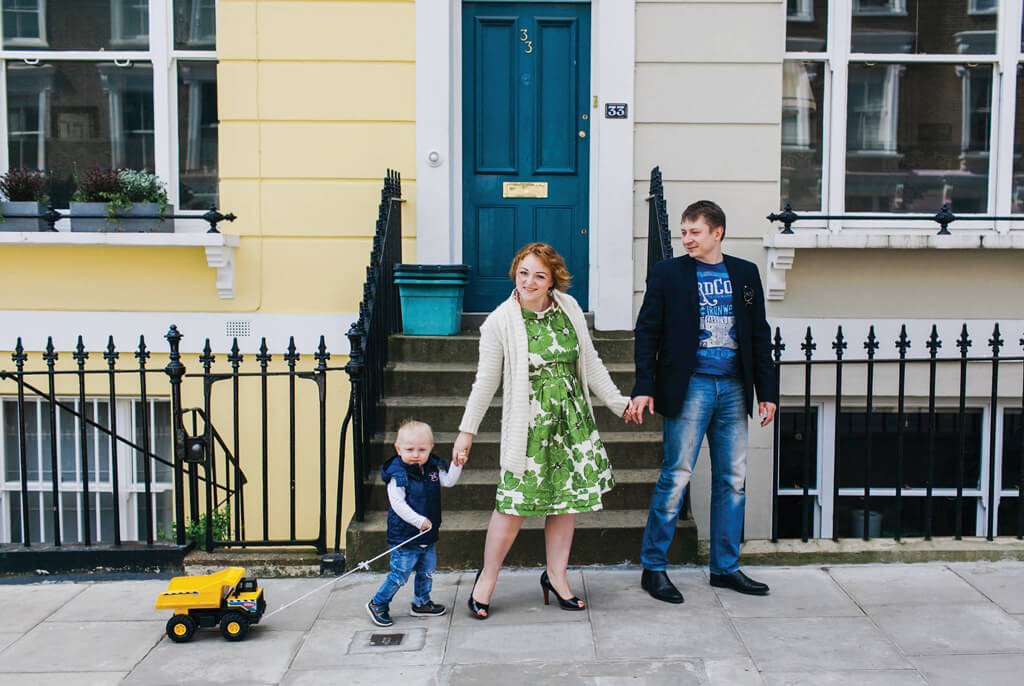 We love London because of all of the opportunities it offers us and our child. There are many parks, free museums, classes about absolutely anything! We decided to do Chinese and found a course not far from where we live. Gymnastics? Not a problem!
What do we spend money on? Our child is still young, and we spend money primarily on developmental classes. Sasha has gymnastics classes, which are £55 for 14 lessons. Chinese costs £80 for ten lessons. Swimming is £16 a month, plus he goes to free sessions at the children's centre of our local church. Many people think that to go to free sessions in a church you have to be religious, but in Britain, these play groups are not connected to religion. It's just a relatively large space with a wide range of toys, activities, songs and delicious biscuits. Our child is now in kindergarten. We are not sure yet where he will go to school afterwards. We are leaning towards state school, but haven't studied the question yet in any great depth. We hope that he will study in private school from the age of 13, perhaps half-board. We would like for him to play football and tennis.
Tip: With small children, you can spend time at free play groups in churches or run by your local authority. You can find information on the local council website.
£800 Anna and Daniil
Children: Matvei (7), Eva Daniella (3) and Adrian Daniil (1 and a half)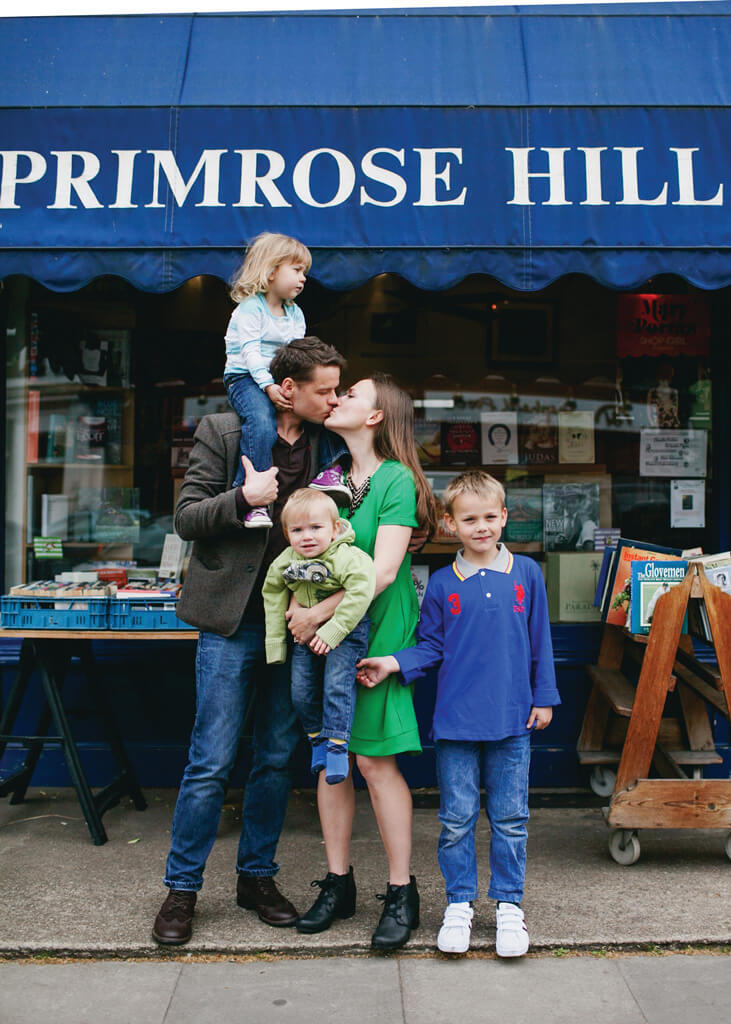 Despite the fact that London is one of the most expensive cities in the world, there are a lot of free things for children. For example, my son goes to a free state school, where there are no fees, but at the same time the level of education is very high. There are a lot of clubs and activities available at the end of the school day. You don't get that everywhere, and the prices also vary. Over the year, my son has gone to badminton, football, cricket, rugby and handball. These clubs run once a week and cost a mere £1.50 per session. That means that in a month, we spend around £6 on one club. Our son also goes swimming once a week, which costs £20 a month for four lessons. Once a week, some of the pupils from our school are taken to a neighbouring school to sing in a choir. His favourite club is the Scouts on Fridays.
In December last year, Kate Middleton visited the school and played with the children for an hour and a half in the sports hall.
As the school and kindergarten are free, and our 1 and a half year old is only interested in his mum for the time being, we don't really spend a lot on education and entertainment. £150 a month goes on clubs. When our oldest starts music lessons, the cost will double. We rarely buy toys, and we spend a lot of time out and about, in parks and museums. We buy clothes during the big sales, which works out at around £50 a month for all three children. We get books from the library and try to go to the free museums. The older children have their birthdays in August, when we are usually staying with their grandmother, and we celebrate with a simple cake. We never spend more than £50 on presents for the children. Our oldest son receives £1 pocket money every week, so he saves £4 a month and buys himself football magazines and sweets. I'm very good at saving money on the brand and quantity of clothes. We don't waste money on expensive toys for the children like iPads, games consoles or other electronics (we don't even have an ordinary television!). I prefer to spend as much time as possible with the children, talking, playing, going places, coming up with little traditions. For example, every Friday we have 'Fantastic Friday' – we buy a large pizza and eat it together after school. It's very simple and not expensive, but the children look forward to it with such impatience!
The rest of our expenses include school uniforms, nappies for the baby, children's toiletries and presents for their school friends.
Tip: The best way of travelling around England (and not only England) is by camping. You need to book a pitch in advance: in good weather, they go like hot cakes, and cost from £13. For an additional fee you can get one with a plug where you can plug in a little portable stove with one or two rings to cook on.