British dental surgery can at times be a painful subject for Russians,who are not used to the NHS and its waiting lists half a year long. Sometimes it seems like it would be quicker and easier to fly back to Moscow to get a filling than to wait your turn in an English hospital. Konstas Papadopolous, co-owner of the dentistry practice Boston House Dental and Dermal Clinic, explained to Russian Gap why free dentistry in England isn't working effectively and why he wouldn't take an NHS doctor in his practice. By the way, Konstantin is one of a small number of Russian dentists working in Britain. And he is the only one to have opened his own clinic in the very heart of the country – in the city of London.
There is a widespread idea that it is very difficult for a doctor from Russia to come to Britain. You have to have everything verified, requalify… How did you end up here?
I came here in 2004, having already completed my higher education – I graduated from the Moscow State University of Medicine and Dentistry. I did a two year residency there, but I understood that there was a lot I didn't know, and I was lacking practical skills and knowledge. In Russia, the private education system was just beginning to develop, and there wasn't anywhere to go. I decided to continue my professional education in Britain. I saw that in postgraduate education, the stomatology schools at universities are recommended (there are about ten of them across the country), and I chose the university of Leeds.
People say that medical education in Russia is very strong! Why was it not enough for you?
We put an emphasis on the fundamental sciences, on theory. A lot of basic things are taught, and even some subjects which, in my opinion, are completely unnecessary for a stomatologist: philosophy, history, sport. I understand that it's a part of higher education, and it doesn't matter which university you go to, you can't avoid philosophy. But in England, they don't waste time on it.
In the fundamental sciences, Russian universities really are very strong, but when you need to work with your hands, it turns out you don't have anywhere to practice, or anyone to practice on.
In England the situation is better, thanks to funding. Here, all stomatology schools are assigned to big hospitals, where patients come and are treated for free. And the range of treatments is larger than what patients receive in Russia. In my opinion, dentists are prepared better here for real (professional) life.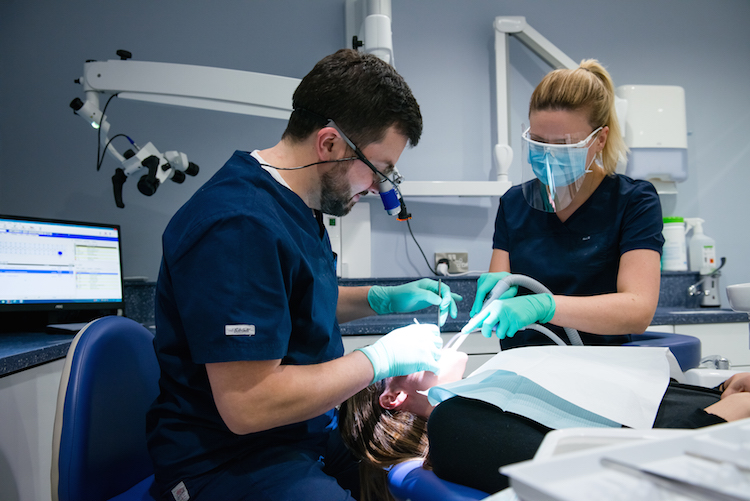 Isn't it possible to come here with a Russian qualification to open a dentistry practice, or to get a work visa?
No. Every year, British denists have to renew their license, and if you are not from the European Union, you have to get one first. And moreover, it's very difficult to even get a place in a university on an undergraduate programme if you are already a qualified doctor. It's very competitive, and in medicine, residents of the UK are given preference. It's already much easier to come here with a degree, for a Masters. It's also fairly difficult to get an invitation for a work visa.
Dentistry is a small business, and no company is going to bother with you. You have to do everything yourself.
You can receive dental care, like all other medical services in England, for free. I am aware, of course, of how slow and problematic it can be… But still, is it worth shelling out to go to a private clinic?
At root, I don't agree with how dental care is organised in the NHS.
The system is oriented towards maintaining the statistics, and showing that 80% of people in the country have access to dentistry.
But there is absolutely no discussion of quality, the level of care a patient receives. To give you an example, let's say you go to an NHS dentist and you need one filling. There's another patient who needs, say, ten fillings. The dentist is obliged by contract to treat both you and the patient who needs ten fillings at the same cost. At the same time, the money he receives from the NHS for both clients is the same. On average, he would be paid by the NHS around £50-60 for this kind of work – which means £5 a filling. Financially, it's not worth it. In effect, the dentist ends up paying for the treatment himself. What happens as a result? A lot of work doesn't get fulfilled, the patient is not properly treated, and receives the minimum range of procedures in the minimum amount of time, always very quickly. A dentist has to see 20-30 patients every day to support himself financially: to pay his assistant, and material costs. In addition, over the last five years stomatology has become very highly regulated. Now there are five organisations which you need to pay for membership, and a lot of organisations have cropped up, analagous to the Federal Sanitary Surveillance Services in Russia. In that sense now, if I'm honest, it's in some ways easier in Moscow to work at all. Everything here is, of course, absolutely legal, but clinics are under a lot of financial pressure, and of course, the patient loses as a result. Because first he has to wait for months to get an appointment, and then he isn't fully treated.
Why would private clinics work with the NHS in that case?
To get patients. Anyone legally living in England has the right to access the NHS. There are no public health clinics here like in Russia. A dentist opening a clinic here invests in it financially, and only then goes to the NHS to sign a contract. Then he will have patients sent to him. The state subsidises part of the work, and patients pay for a minimal part. But the prices are fixed. A doctor doesn't have the right to charge more. Often, an NHS patient will come for just a check-up, and the clinic will try to offer additional services to somehow make up costs: tooth whitening, expensive crowns etc. Which means they are using the NHS like an advertisement, to attract patients. I am in touch with colleagues in Europe, and this situation doesn't exist anywhere else in such a vulgar form, England has one of the worst systems, in my opinion.
I don't work with the NHS, and I would never take on a doctor from it.
Clinical skills are quickly lost as a result of these harsh limitations, and you shouldn't expect any kind of quality treatment.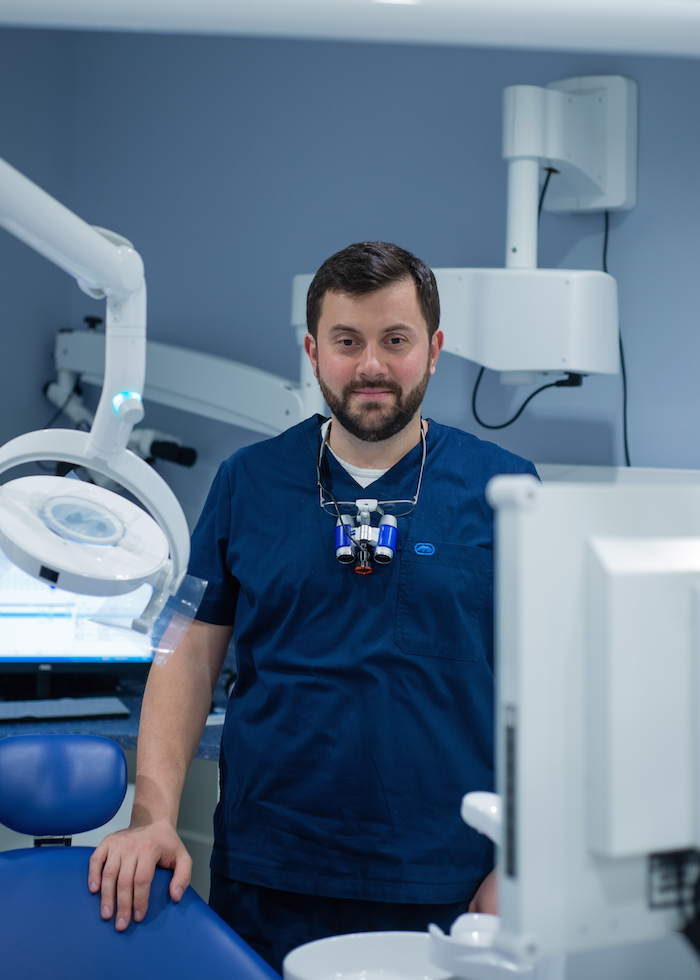 Tell us about your clinic. Was it difficult to open it?
We opened officially in October last year, but the preparations took three years. It was very difficult to find premises. In the city, nobody wants to work with individual entrepreneurs and small firms – everyone wants big corporations.
But it was fundamental for us to open the clinic here, because it was in the city that we saw our niche.
The majority of people who work here, in banks and in finance, don't even live in London, but travel to work from the surrounding area. For them, it's impossible to get an appointment with a dentist near where they live. At 5 or 6 in the evening, the majority of clinics are closed.
And do you need to make an appointment at your clinic in advance?
We leave time in our day for urgent cases without an appointment, but it is of course better to get one. We will definitely see you within one to three days. At the Boston Clinic, everything is still set up so that all of the doctors are still gathered together under one roof, including the specialists, so you don't need to go anywhere else. I am a general practice dentist, but once I've assessed the situation, I can send the patient to a specialist in my own clinic. All together, we can offer all services: therapy, surgery, …, orthodontics and a wide range of cosmetic services. We also have a plastic surgeon working with us. He holds his consultations here, but works in hospital conditions.
You are a specialist in teeth, but at the same time you have to do a lot of non-medical work. How do you find all the administrative work?
Not very easy. I try to delegate as much as I can. I have partners, co-owners of the clinic. I would never be able to manage the whole process on my own, especially financially. Personally, I much prefer to work at the dentist's chair. I even fly to Moscow on weekends: I still have a practice there. At the same time, I have to deal with repairs, purchasing, and questions of personnel… Although with the latter we were lucky. One of our partners already had a lot of experience of working in private dentistry in England, and because of this, we knew which doctors and personnel to invite to work with us. It's very difficult to find good specialists from scratch.
Do you mind if I take the opportunity to ask a question which has bothered me for a long time? Is it true that coffee stains your teeth?
No. Green tea has a much stronger staining effect on your teeth. In tea, the tannin content is often higher than in coffee. It is tannin deposits on your teeth that leads to pigmentation.
And are there any fundamental differences between toothpastes you can buy in the shops? There are hundreds available at various prices, and they all promise a different effect.
The main thing is that it contains flourine, because that is the only element that is capable of strengthening the enamel of a fully grown tooth, but actually almost all toothpastes contain it. Recently a lot of herbal, natural toothpastes have come on the market and those are useless, they even harm your teeth.
The remaining abundance of tubes are more to do with marketing, there is no difference between them.
It is much more important how long you clean your teeth for. You should brush them for a minimum of two minutes, ideally with an electric toothbrush. And I would still recommend going once a year for a preventative check-up at the dentist to get your teeth professionally cleaned. In the long run it will save you a lot of money – preventative measures are always cheaper than treatment of a problem.
Get a free online consultation on Facebook.
Clinic address:
82 London Wall, London, EC2M 5ND
(near to Bank and Liverpool Street stations)
0207 965 7324
kpdental.co.uk